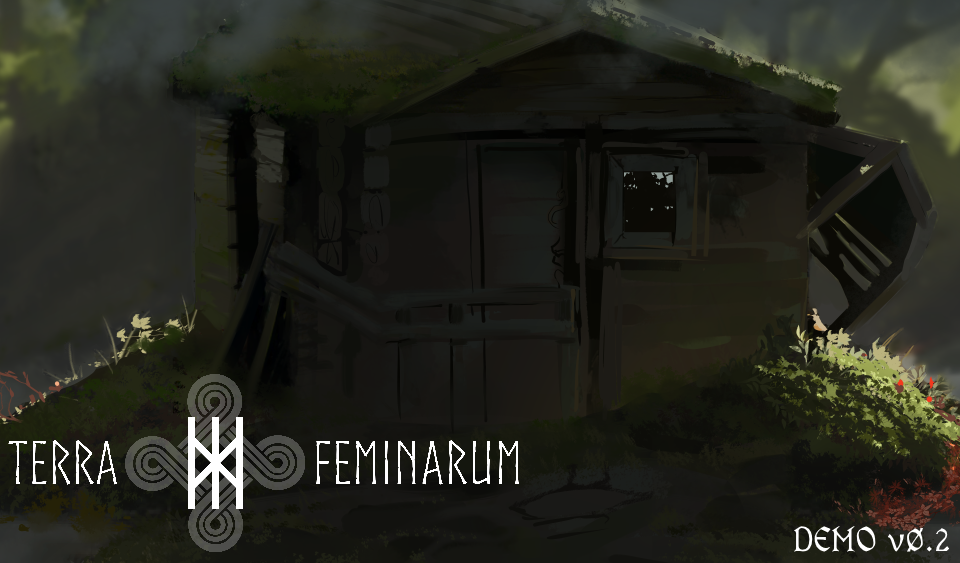 Terra Feminarum [DEMO v0.2]
A downloadable game for Windows
Demo v0.2
This is a demo of Terra Feminarum. You can buy the full version HERE
Terra Feminarum is a Finnish mythology themed Japanese style danmaku shoot 'em up. The characters and the story are based on Finnish mythology. The Gameplay and the art style are both highly inspired by Japanese danmaku shooters.
Story
The story takes place in one of the ancient Kalevala's provinces Terra Feminarum. "The Land of Women" is known from its red-blooded citizens and especially the woman shamans. Terra Feminarum is also the only province of the Kalevala leaded by women.
The bright dancing lights of the aurora illuminates the sky of Terra Feminarum every night. However, recently the northern lights have strangely become restless and weaken. Three the most powerful shamans of the Land of Women are willing to investigate the matter. The road to the Pohjola shall be traveled once more.
Demo v0.2 Features
Hand drawn graphics
HD resolution (1080p)
Extra wide playfield. No wasted screen space!
Tutorial
2 playable story chapters (Chapter 1 & Chapter 3)
3 playable characters
3 difficulties
Story Mode with enhancement & challenge system
Wide controller / joystick support with rebinding
Default Controls:
Keyboard

Arrow keys - move
L-Shift - focus / slow
Z - shoot
X - special
C - sprint (needs boot enhancement to work)
Esc - pause

Controller

Dpad - move
X / Square - focus / slow
A / X - shoot
B / Circle - special
Y / Triangle - sprint (needs boot enhancement to work)
Start/Options - pause
Minimum System Requirements
Requires a 64-bit processor and operating system!
OS: (64bit) Windows 7+
Processor: Intel Core i3-3110M
Memory: 4 GB RAM
Graphics: Geforce GT 650M or equivalent. OpenGL 3.3+
Storage: 500 MB available space
Additional Notes: Don't use non-ASCII (non-English) characters on the file path where the game is located.
For example the game won't start from the file path [ C:\Program Files\ゲーム\TerraFeminarum ]. To fix this problem, you need to either change the non-English names from the file path or move the game folder to location where non-English characters are not used. In this example renaming the "ゲーム" to "Games" [ C:\Program Files\Games\TerraFeminarum ] would be one way to solve the problem.
Follow us!
https://twitter.com/PolarNightGames
Download
Download
terra_feminarum_demo_v0.2.1.zip
426 MB